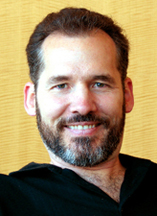 Tim Kelley is an author, teacher and visionary, guiding tens of thousands of people around the world to achieve extraordinary clarity of purpose. He has trained over 1000 coaches, facilitators, and consultants in his methods, and he has been featured in magazines, TV and radio. Tim works with aspiring world leaders, helping them find their way to impact our changing world.
Tim has led workshops and trainings for over 15 years, on such topics as Voice Dialogue, the Enneagram, men's and women's work, meditation practice, and leadership. Tim's corporate clients include Hewlett Packard, American Airlines, AOL, ING, Deloitte & Touche, Charles Schwab and Bayer. He formerly worked as a leader at Oracle, two levels below the CEO. He has coauthored several books, including Wake Up… Live the Life You Love: Living on Purpose, A Search for Purpose, and Blueprint for Success.
Tim has commanded military organizations, including an amphibious assault craft unit, and is a decorated Naval Reserve officer. He holds a bachelor's degree in theoretical mathematics from MIT. Tim lives in Berkeley, California, with his wife, Heather, and son, Ronan.
Click Here to contact Tim!